Best tires for BMW X3: a detailed guide
While many individuals enjoy driving their BMW X3, they often aren't aware of the advantages of purchasing tires that maximize driving. When your car has the right tires, you can enjoy several things that you otherwise would not be able to.
You must know exactly what you need from your new tires before purchasing so that you can get the best set possible. The climate where you reside and do most of your driving is also one of the most crucial factors when selecting your tires.
We have put together the best tires to enhance your driving abilities.
Best tires for BMW X3
What is the good tires for BMW X3?
Below are the best tires available for BMW X3:
MICHELIN Primacy MXM4, All-Season Car Tire, SUV, Sport and Passenger Cars – 235/45R18 94V
Exceptional dry and wet traction, continued usability in mild snow and ice, and a decent treadwear warranty are all features of this all-season tire. Additionally, it includes design features that prevent hydroplaning.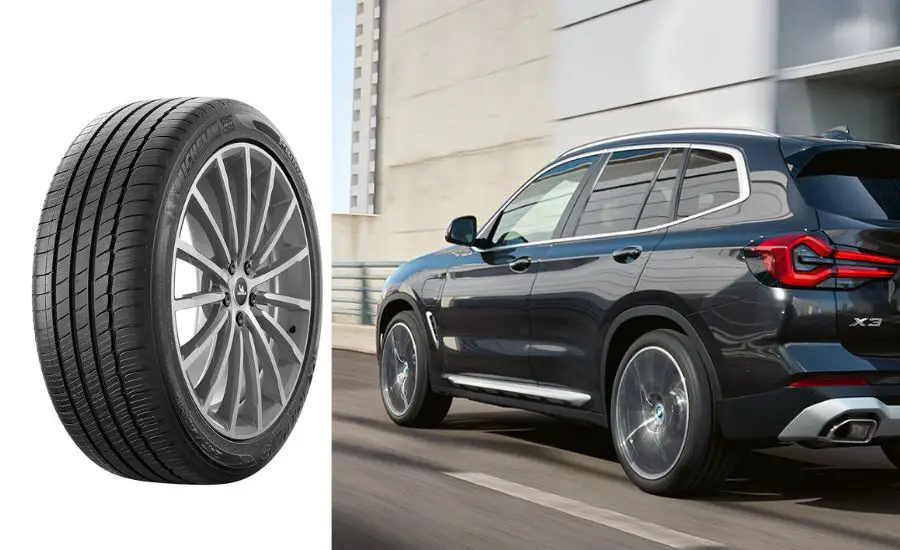 The outstanding performance of this model on both dry and wet roads can be attributed to the tread compound made of silica and sunflower oil.
Sunflower oil gives the rubber the firmness required for hot weather, while silica keeps the rubber flexible to improve this model's wet traction.
A quartet of circumferential grooves and the built-in rain grooves aid in the evacuation of water to prevent this tire from experiencing hydroplaning.
These tires received ratings of 8.3 for light snow traction and 7.3 for deep snow traction on a scale of 1 to 10. These tires can withstand even the harshest winter weather. It alsoprovides a comfortable and quiet ride.
These tires are available in a range of sizes, from 15 to 19.
Pros
Reliable tire
Can easily handle winter conditions
Offers a good balance between traction and tire wear
Reduced road noise
Cons
Unusually small treadwear warranty
Cooper ProControl All Season 235/50R19 99V SL Tire
This performance all-season tire is made for SUVs and passenger cars. With this model, Cooper provides a 70,000-mile treadwear warranty.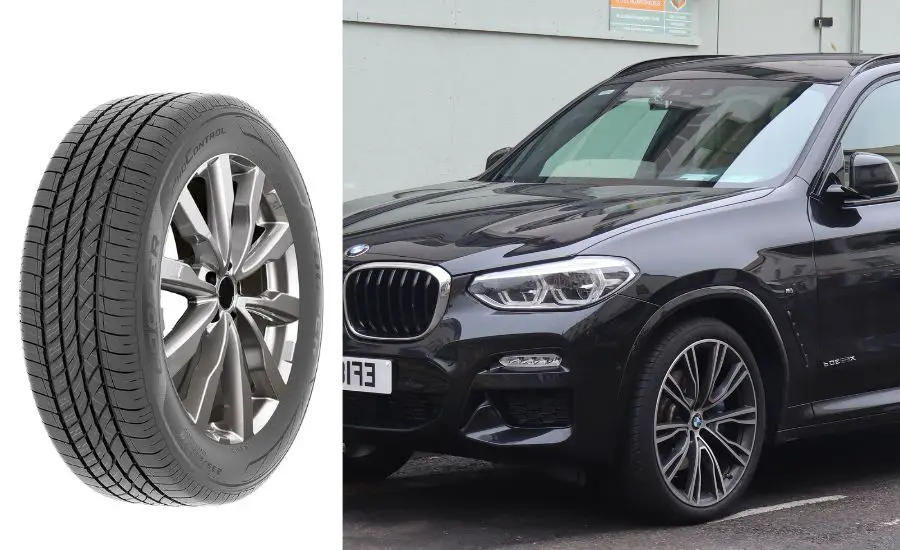 This model provides exceptional all-season traction. The unique compound combination and the intricately ribbed tread design enhance the tire's dry, wet, and winter grip. Stronger rubber materials keep the tire flexible all year long, enhancing its performance in both summer and winter conditions.
Additionally, the Cooper ProControl lengthens its service life. Polymer elements slow the rate of tread wear, preventing premature wear across the footprint. Furthermore, the stability of the tread design and the optimally ribbed footprint guarantee uniform pressure distribution, preventing irregular wear. The tire's overall tread life is considerably increased as a result.
Tire manufacturers advise replacing them every ten years. The manufacture year of tires won't affect how long they last as long as they are stored appropriately before being sold.
Pros
All-season traction
High-speed controllability
Longer-lasting tread life
Cons
Hankook VENTUS S1 EVO 2 K117A Performance Radial Tire – 255/55-18 109V
It has been designed and developed exclusively for the top SUVs. The S-Series provides superb handling, braking, and grip in any weather.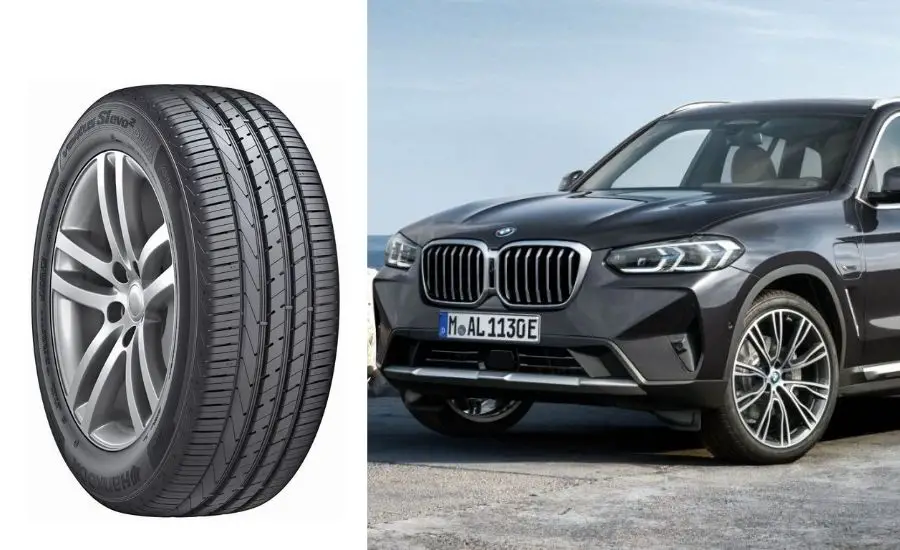 The Hankook Ventus S-Series is offered in a variety of sizes to fit all of the popular SUV models including the BMW X series. Additionally, BMW sells this tire with every new BMW X3 and recommends it to anyone considering buying new tires.
Its tread pattern was made to provide excellent grip in all weather conditions and sufficient drainage to help lower the risk of aquaplaning.
Additionally, the tread pattern is asymmetrical, which reduces noise.
This tire is a wonderful choice for your BMW X3 if you're searching for a tire that delivers superb all-around performance.
Pros
Strong wet performance
Made for SUVs
Cons
Costly
Not produced in America
Pirelli 2559300 PZero All Season All-Season Radial Tire – 235/40R18XL 95W
Pirelli tires are ideal for high-performance driving and can provide the best handling and responsive driving. Typically, drivers who like to drive aggressively and with a sense of adventure are the ones who opt for high-performance tires.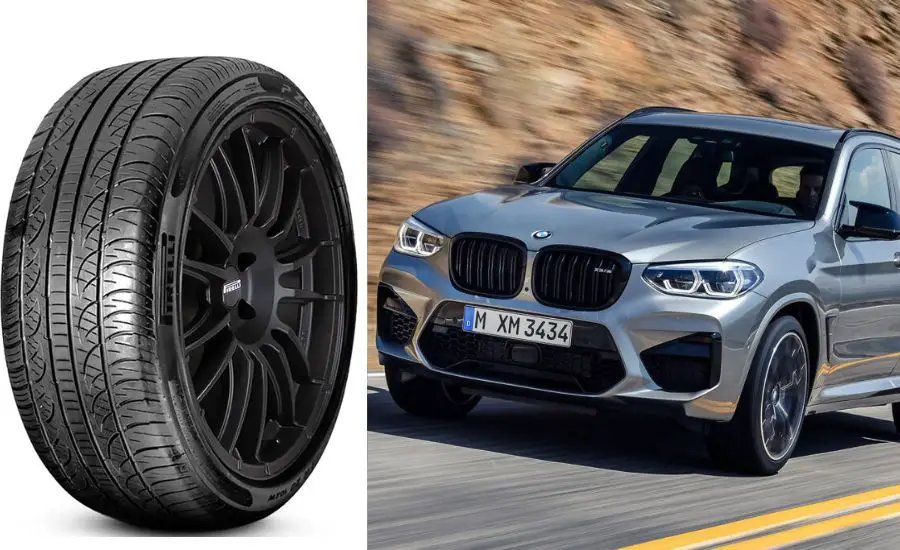 Choosing a high-performance tire is a great way to stay safe while driving more aggressively if these attributes appeal to you. Even though driving this way may not always be more dangerous, having the wrong tires can make it more risky.
With Pirelli P Zero tires, you can improve your driving skills and control how your car reacts in different situations.
However, keep in mind that the tread life of the P Zero is limited. If pushed to its limits, this high-performance tire tends to wear out very quickly. As a result, choosing it would essentially mean sacrificing long road life for improved steering,  cornering performance, and high-speed stability.
There are sizes 17-20 available for these tires.
The P Zero also struggled in terms of comfort. Because of how durable the tires are made, it results in a firm ride. This is a minor price to pay to compensate for the other advantages provided.
What is the road noise like?
These summer tires produce little to no road noise.
Pros
Budget tire
Reduced road noise 
Various sizes are available, ranging from 17 to 20 inches
A good grip on both dry and wet surfaces
Cons
Below-average tread life
Poor wet performance
Unsuitable for snow
Cooper CS5 Ultra Touring All-Season 245/50R18 100V Tire
This all-season touring tire is one of the best touring tires available. These tires are a wonderful, reliable option for you and allow you to enjoy your time driving your BMW X3.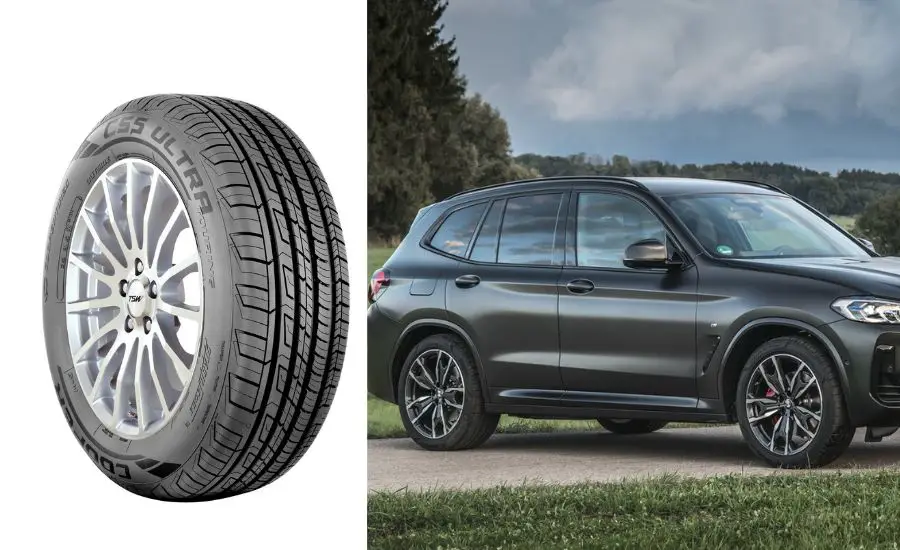 You can count on a tire to perform as intended when you choose a brand as prestigious and widely recognized as Cooper. You can always drive safely if you have traction, rain or shine.
Although most touring tires can handle light snow conditions, do not use them in extremely harsh weather because they aren't recommended for it.
These tires received ratings of 7.8 for overall ride quality and 7.5 for road noise on a scale of 1 to 10.
Pros
Reasonably priced
Superior dry and wet handling
Cons
V- and H-rated tires have a smaller treadwear warranty
Average deep snow traction
Best tires for BMW X3
They are classified into:
Touring tires
If you're unhappy with the ride quality of your X3, these all-season tires are the best choice.
The non-aggressive tread pattern and all-season tread compound on these models reduce road noise and absorb vibrations ensuring an enjoyable driving experience.
You'll save money on petrol since they have better fuel economy compared to their performance or high-performance counterparts. Additionally, they come with extended treadwear warranties, which for luxury models can reach 70,000 miles.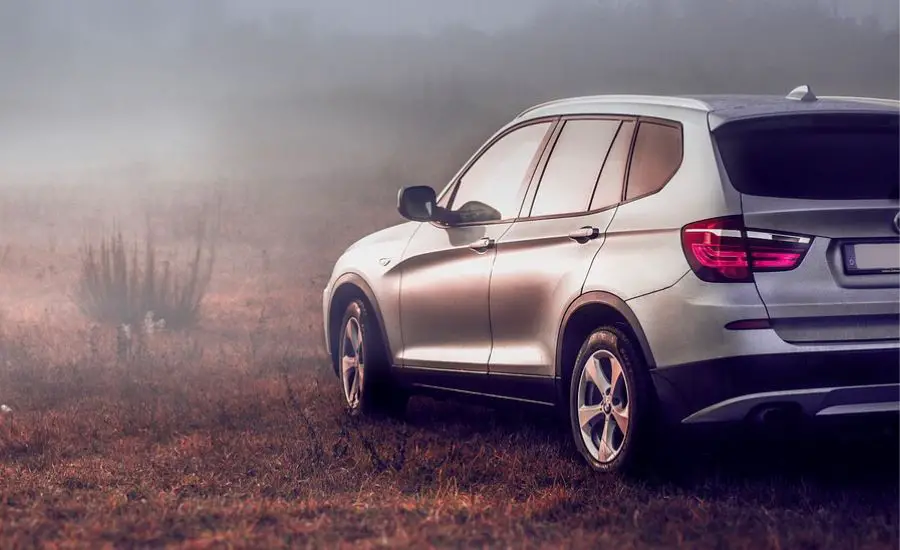 Highway tires
Highway tires are designed to bear heavier loads as opposed to their touring counterparts since they have higher load ratings. Their design is another feature that sets them apart from touring tires, with highway tires being significantly more durable than touring tires.
Therefore, if you're among the small percentage of X3 users who use their SUV for transporting bulky items, these models might be a decent option. If you only use your X3 for daily driving and that isn't the case, touring tires might be a better choice.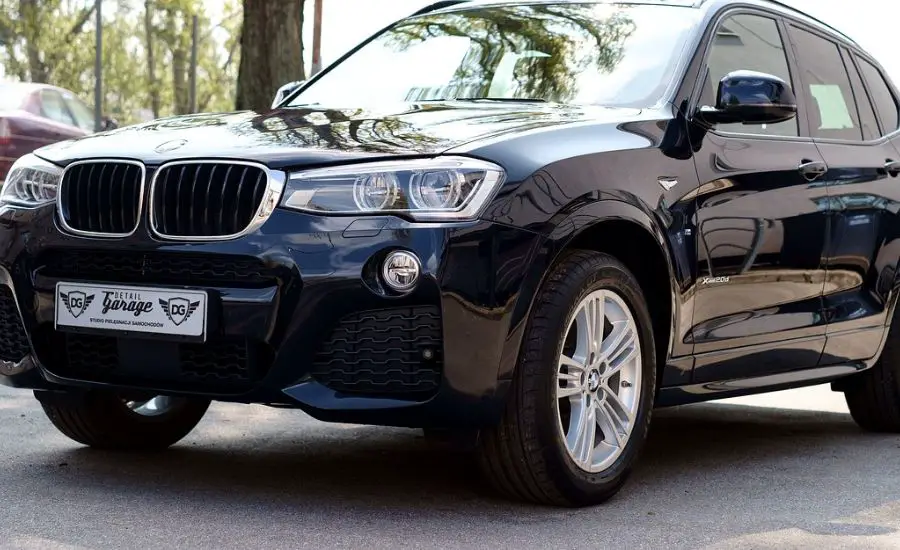 Performance tire
There's a reason why the majority of BMW X3 models come with performance tires. This SUV has the kind of handling and acceleration that can only be improved by a set of performance tires, whether they are all-season performance tires or those that are useful in the summer,
While there is no denying that performance tires can increase the fun of driving your X3, be aware that these models are quite expensive.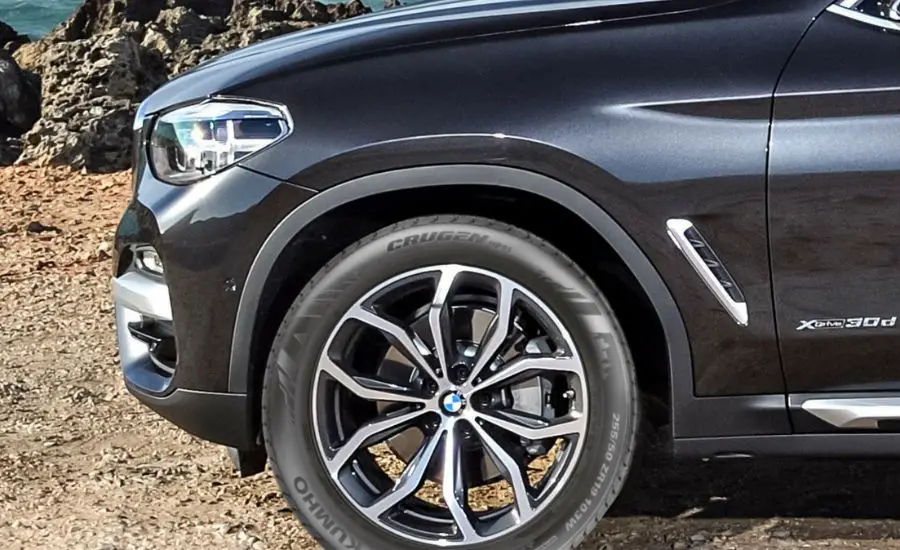 Buying guide
Below are certain key factors to watch out for:
Tire size
Take a look at the placard on the driver's side door or the owner's manual for a reference if you're unsure of the tire size you need.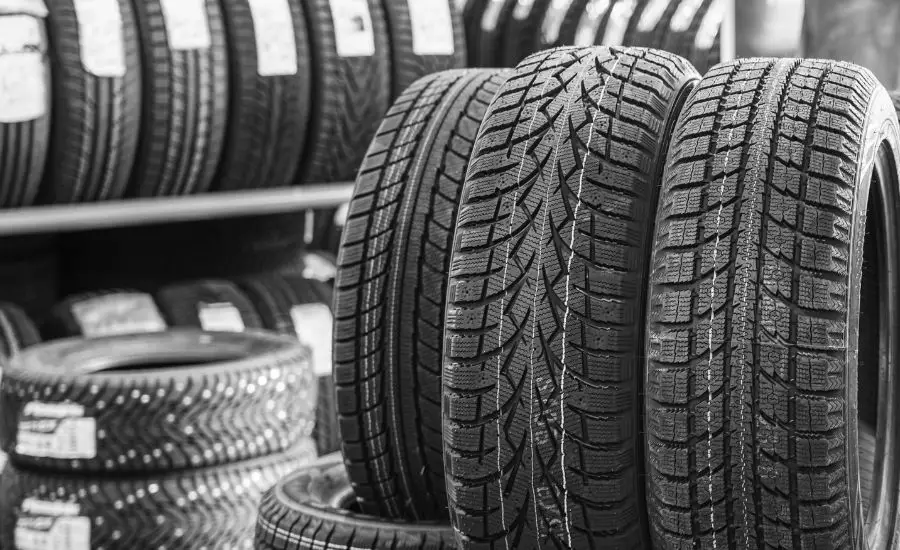 The type of tire you need
Below are the various tire types:
All-season tires
They are available in T- or S-speed ratings. They come as the standard tires in the majority of SUVs and automobiles, and they are suitable if you want tires with long mileage warranties and all-weather grip.
Performance tires
These are mostly seen in newer automobiles and are available in V- and H-speed ratings. If you want upgraded wheels or are a speed enthusiast, you should consider getting these.
Compared to all-season tires, they provide outstanding cornering grip, but they might not have a high mileage warranty.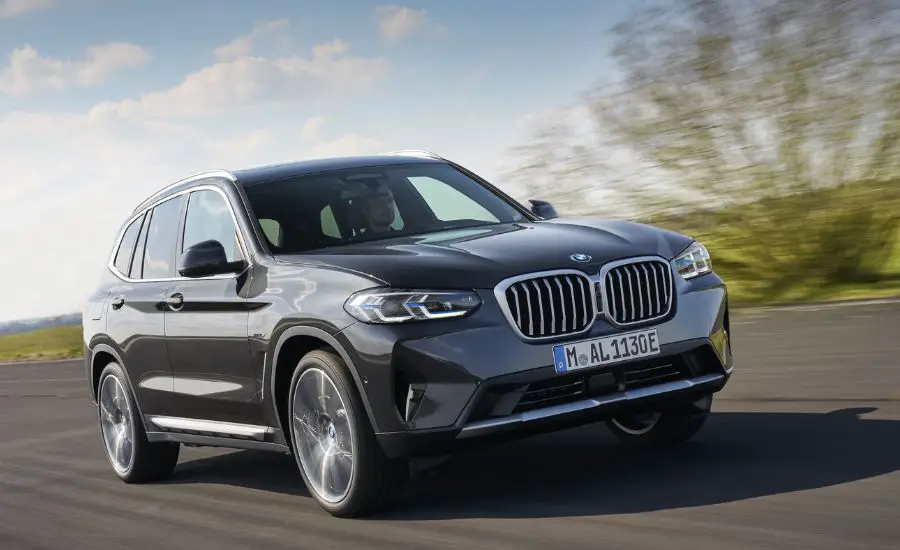 Summer tires
These are suited for performance sedans and sports cars and typically have a Y-, W-, or ZR-speed rating. It can be challenging to tell them apart, but a major distinction is that these tires don't have a M + S rating.
Snow/winter tire
The snowflake and mountain symbols on the sidewall of the winter tire make it easy to recognize. They also have busier-looking treads due to the inclusion of sipes which are additional slits on the tread that increase traction.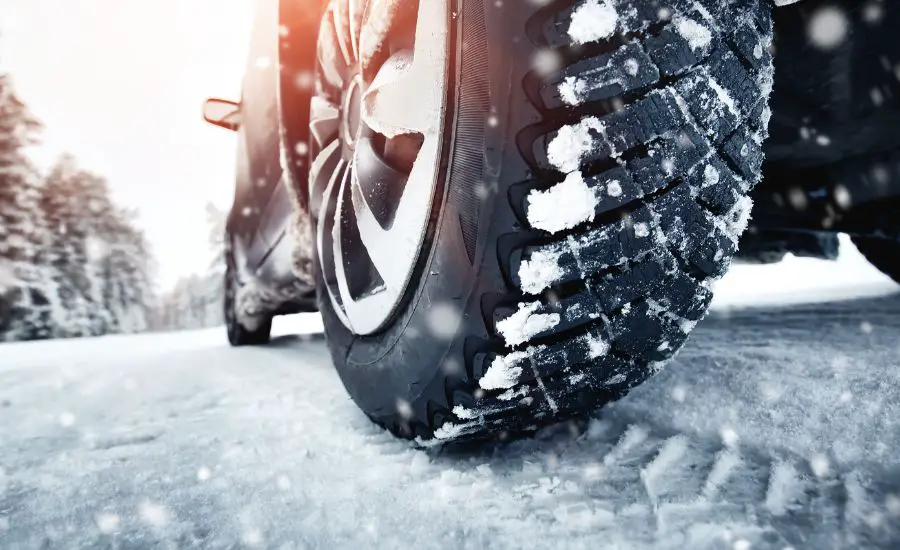 All-terrain truck tires
These are available in large sizes and are designed for towing light-duty pickup trucks and SUVs. They have a highly aggressive tread pattern, which helps them gain more traction in off-road environments.
Fuel economy
Tire and automobile manufacturers have been incorporating environmentally friendly changes into their products, particularly car tires, as a result of rising environmental awareness. As a result, it is beneficial to take the tire's fuel economy into account by checking its rolling resistance.
The lower the rolling resistance, the more service life and optimal fuel mileage you can get from your car.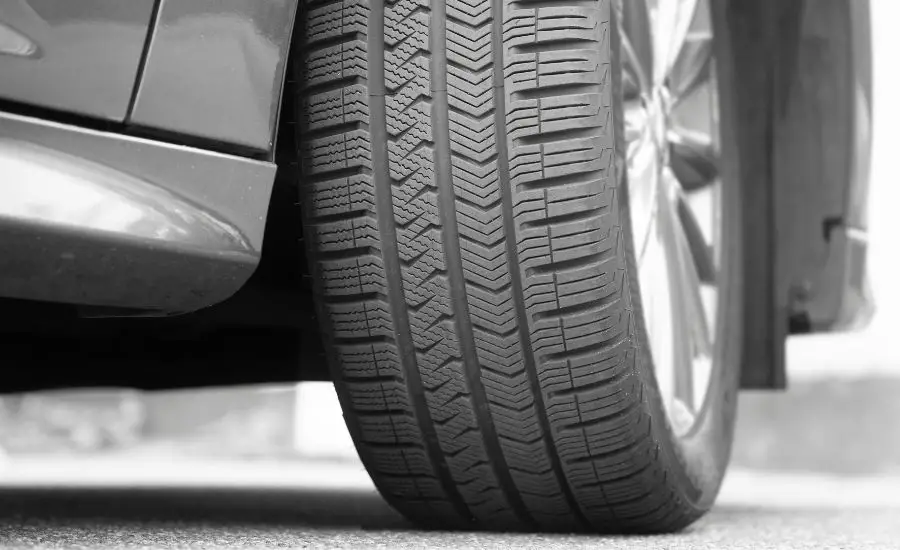 FAQ
What are the stock tires on a BMW X3?
A BMW X3's stock tire is determined by the model, trim level, and year.
Some options for the BMW X3 include:
• Pirelli P Zero PZ4 Luxury tires
• Bridgestone Alenza 001 tires
• Michelin Latitude Sport 3 tires
For instance, the 2021 BMW X3 has 255/45R20 tires in the front. The 2004 BMW X3 2.5i Sport Package has 235/50R18 tires, while the 2.5i Standard Model has 235/55R17 tires.
Which tires are BMW-approved?
BMW offers a variety of tire options for various driving needs and conditions. Below are a few examples of BMW-approved tires:
• Michelin Pilot Sport 4 – a performance tire with a 300 UTQG rating.
• Pirelli Cinturato P7 All Season Run Flat- a 500 UTQG-rated touring tire.
• Bridgestone Blizzak LM001 RFT- Bridgestone tires are snow/winter tires with run-flat technology.
All of the major tire manufacturers, including Dunlop, Pirelli, Goodyear, Michelin, Continental, and Bridgestone, are recommended by BMW.
Do BMW X3 need run-flat tires?
YES, they are a standard feature of the BMW X3.
Conclusion
BMW X3 is one of the most popular SUVs available and it has numerous features. However, you won't be able to benefit from any of these features, if you install cheap tires. It is advised to use high-end tires with this SUV.